I usually have Wednesdays off and I always try to do something to satisfy my creative outlet. Here are the products from the last couple weeks!
Last week...
I couldn't stand this side table any longer! I made a cover for it out of another sheet I got at savers.
What do you think?
Don't mind that I am still trying to decide what to put on top! I need a lamp.
This week....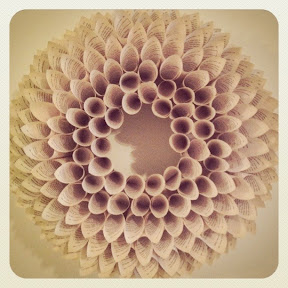 I made a wreath like this for my mom last Christmas and I just couldn't resist one for myself!
I've been having fun testing my craftiness and hopefully you've had fun reading about it!
EXTRA EXTRA: I also took advantage of
Amy
's creative outlet yesterday @ the MAC counter.
I loved it.
She will make you feel like a beauty queen!!